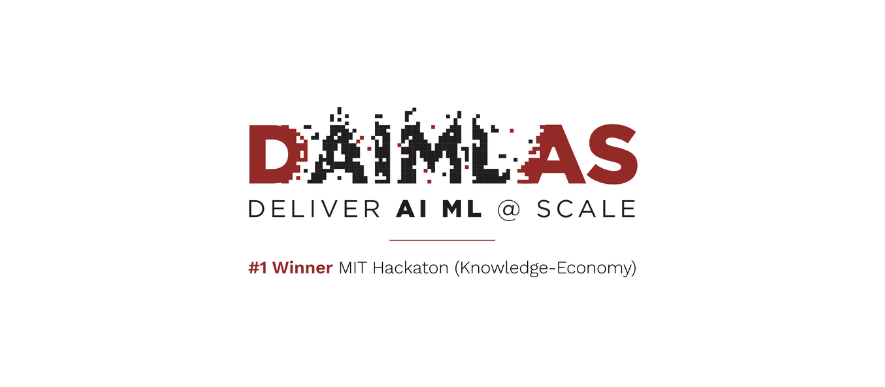 AIP Affiliate Spotlight DAIMLAS
Thu, Apr 1, 2021 8:00 PM GMT
AI Partnerships Corp. welcomes DAIMLAS to its AI Network.
DAIMLAS is a B2B AI Services marketplace based out of Toronto, Canada, designed for companies to hire remote vetted artificial intelligence teams.  With over 12 industries to choose from such as manufacturing, healthcare, and finance, DAIMLAS has the resources to assist businesses on any projects at scale. Their clients are guided through every step of their AI journey together to ensure the highest quality & satisfaction guaranteed. 
DAIMLAS is the Shopify for vetted AI services and is as easy to process as a Fiverr transaction. In June 2020 (knowledge-economy), they won the MIT Hackathon, participated in an MIT Accelerator July-Aug 2020, and were selected as MIT MENA's most promising young startup (Nov 2020). DAIMLAS is also an accepted startup to the Plug & Play platform in Silicon Valley. They currently serve clients in the US, Canada, and the Middle East.
DAIMLAS leverages the national AI strategy of Canada to remove the friction in building AI teams. No HR, no interviews, vetted and scalable, stand-alone, or integrated. The process to get started is simple. Hereʻs how it works:
Step 1: Request a Live Demo
Step 2: Access Managed Marketplace
Step 3: Collaborate & Deliver Projects
AIP is elated to join alliances with a dominant AI-focused workforce that DAIMLAS provides. As technology keeps progressing into the future, more companies are trying to keep up with the fast-paced changes. By lowering the barrier for businesses to get started on their AI journey, they can transform into trailblazers in their respective industries. 
Join the largest AI teams marketplace in the world to get ahead of the competition. Corporations looking for scalable AI teams, startups wanting to get started on the AI journey, or AI talent looking to join a team this is the right place to be. Click here to schedule a free demo with the DAIMLAS team today.
- AIP Team